highlights;
—an anthology of their love.

---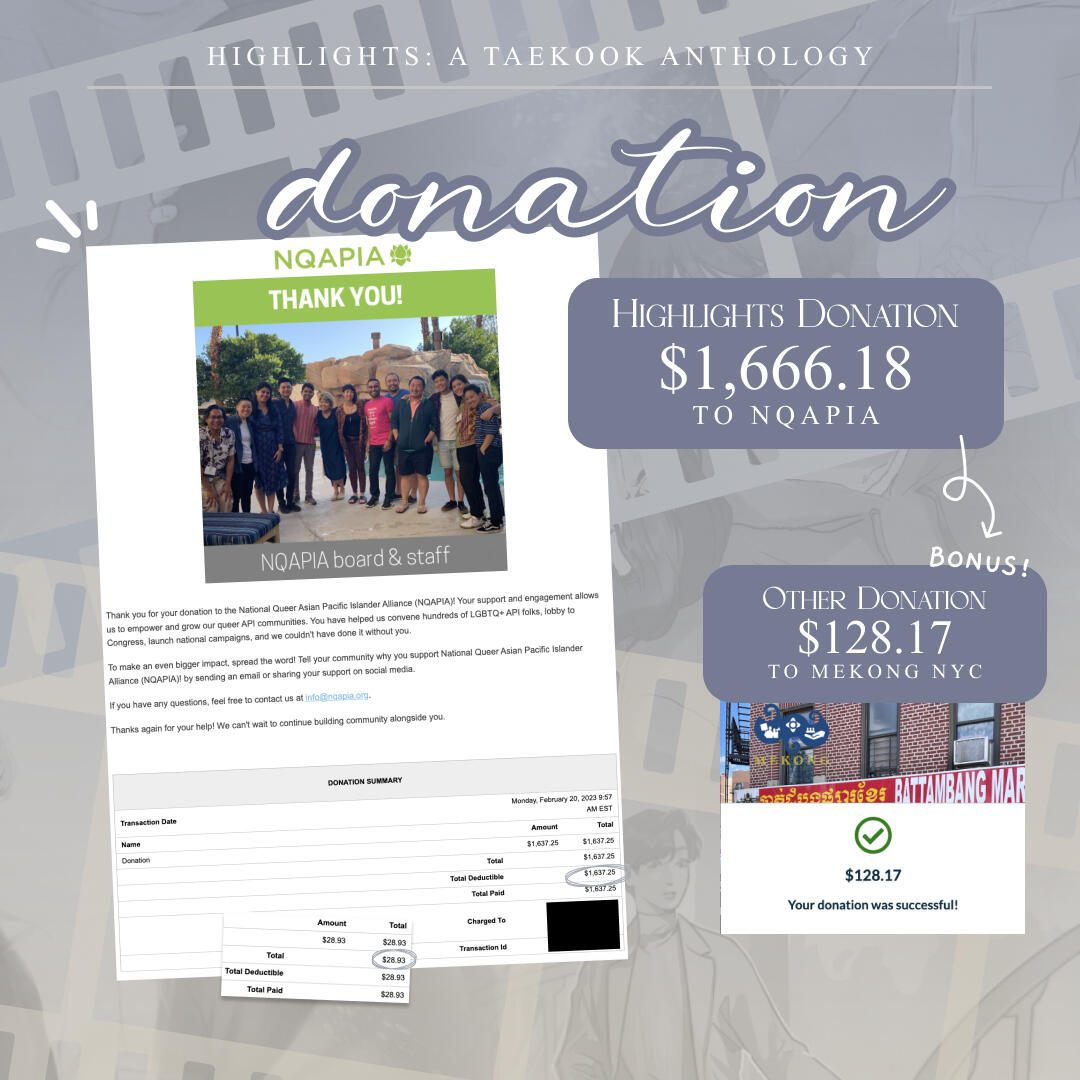 a completed collection of literary and visual works featuring the love story between taehyung and jungkook.a total of $1,794.35 has been donated to charity. thank you for all the support and love you've shown to our anthology and taekook!
---
about
Highlights is a taekook collection of love stories. Each story will be accompanied by an illustration and the book will be a compilation of medium-length stories. As an anthology, the collection will be writing-heavy, as compared to zines which have a mix of both writing and art or are more art-centric.Theme—Our anthology centers around the love between Taehyung and Jungkook made for the movie screens. The collection will tell their story as they fall in love and grow together towards their own
happily ever after.Charity—A portion of our profits will be donated to the National Queer Asian Pacific Islander Alliance (NQAPIA), which is a federation of LGBTQ+ Asian American, South Asian, Southeast Asian, and Pacific Islander organizations. They build capacity for the AAPI LGBTQ+ community across the U.S. through advocacy, education, and collaborations.Learn more about them here.
---
ANTHOLOGY SPECIFICATIONSThe anthology will feature a total of 27 contributors: 12 writers, 6 chapter artists, 1 cover artist, 3 merchandise artists, 2 digital writers, and 3 digital artists. This project will offer digital and physical versions. The printed book will measure 6 x 9 inches. Digital measurements will be created at the same dimensions. The digital copy will include bonus content from digital contributors.WRITERSWriters will create a 5,000 to 8,000 word story (approximately 300 formatted pages). The stories will be complete with a happy ending resolution with taekook together.CHAPTER ARTISTSChapter artists will create 2 vertical pieces, and this will be in the form of black and white illustrations to complement two (2) stories.COVER ARTISTThe cover artist will create 1 fully illustrated, colored artwork with taekook as the main focus for the cover page of the anthology. Background from the first will be carried over around the spine and for the back.MERCH ARTISTSMerch artists will create fully illustrated, colored artwork with taekook as the main focus. One artist will do an art print, one will do two (2) single-sided bookmarks, and one will do two (2) single-sided photocards.
schedule
Interest CheckModerator ApplicationsContributor ApplicationsApplication Results SentContributors AnnouncementPitches DueAssignments FinalizedCheck-in #1Check-in #2Check-in #3Final SubmissionsPreordersProductionShippingLeftover Sales
19 Jul - 2 Aug 20216 Aug - 20 Aug 20211 Sep - 30 Sep 20216 Oct 202116 Oct 202127 Oct 20215 Nov 202121 Nov 202112 Dec 20219 Jan 202216 Jan 202214 Feb - 10 Apr 2022May - Jul 2022Jul - Aug 202210 Sep - 10 Oct 2022
frequently asked questions
What is an anthology?
- An anthology is a collection of literary and written pieces ranging from long-form proses to poetry. For this collection, we will be restricting it to solely long-form proses (fics) with full length art pieces in between each story.Is an anthology and a zine the same thing?
- Not quite. An anthology will be writing-heavy, as compared to zines which generally have a mix of both writing and art or are more art-centric. Our aim is to make the collection more like a novel and book rather than a zine.Is this anthology physical or digital?
- The anthology will come in both physical and digital versions.Is the word count limit fixed?
- Each piece will be limited to a maximum of 8,000 words. As this is an anthology, the final product will be more similar to a full-length novel. Interested writers can gauge for themselves if they're able to write the expected word count within the schedule!Will both Taehyung and Jungkook have to appear in every piece?
- Yes.Will other members be included in pieces?
- It is up to the contributor's decision, as the focus will stay on taekook.Will taekook always be depicted romantically in the anthology?
- Yes, this is an anthology centered around their romantic love.Is this anthology NSFW (not safe for work)?
- The anthology will not have mature/explicit content. However, there may be implied/referenced smut, which falls under teen & up ratings.How can I stay updated on the anthology?
- Follow us on our twitter or instagram @taekookfeature! Our social media contacts are linked at the bottom of the page.Where will the anthology profits go?
- The anthology will be split profit, meaning contributors will have the choice to keep their share of the profit or to have it donated on their behalf to charity.
- After contributors are accepted, a charity will be decided upon.How will the contributors be compensated?
- All contributors will receive one (1) free digital copy of the anthology. Merch artists will receive one (1) of the merch they create. If we reach the breakeven point to send all contributors physical copies, this will be sent in place of digital copies. Digital contributors will receive only one (1) free digital copy regardless.
- If our profits permit and we have additional merchandise, we will include an additional item prior to shipping.
- If our profits permit, contributors will also be compensated a portion of the profits. For monetary compensation, contributors will be paid through PayPal.
- They may also choose to have their share split between other contributors or donated to charity.Will I be able to receive my part of the profit if I'm under 18?
- Unfortunately, minors will not receive monetary compensation. Instead, their portion of the profit will automatically be donated to our selected charity.What sort of contributors are you looking for?
- We are looking for contributors who love taekook's love and want to be part of something fun and exciting! We will review all applications fairly.
contributors